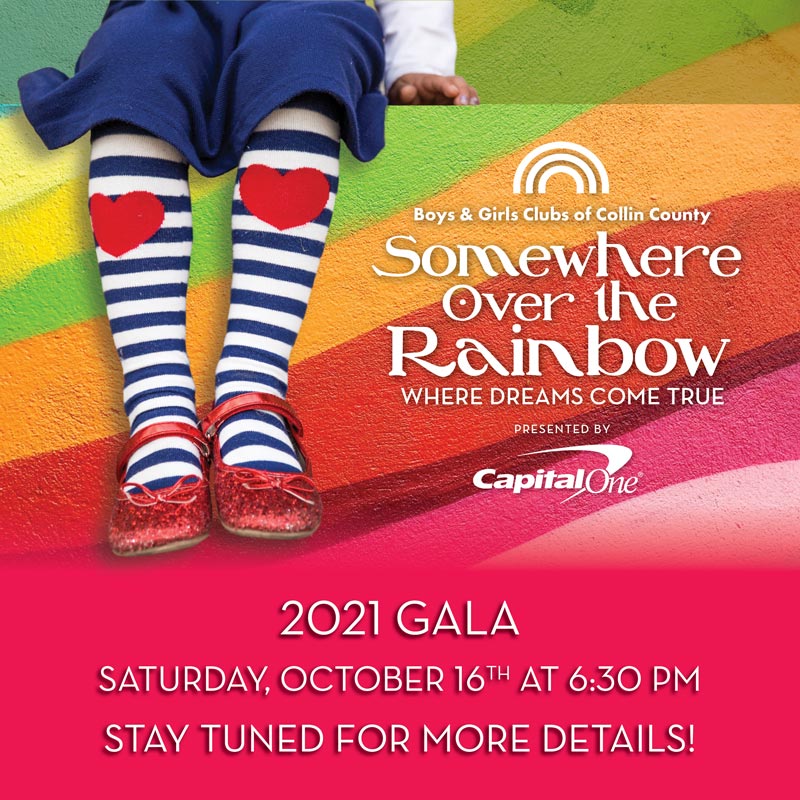 2021 Gala
Saturday, October 16, 2021 • 6:30 PM
Welcome to the Boys & Girls Clubs of Collin County 2021 Gala presented by Capital One. Tune in to this one-of-a-kind virtual experience from the comfort of your own home.
Our Gala theme this year is "Somewhere Over the Rainbow" Coming out of the most challenging year in our organization's history, it is through the support of the community that allows our club kids' dreams to come true.
Visit Website
This one-of-a-kind virtual event will include:
Yellow Brick Road
Come see the smiling faces of our kids. You'll know you're not in Kansas anymore!
Silent Auction
Before this exclusive event, you will have the opportunity to bid on several fabulous packages and experiences at our Silent Auction.
Live Auction
Bid on unique experiences during the Live Auction, only available at this event. Our Live Auctions are known as a shopping experience like none other!
Sponsor a Child
Show your support of these young lives with an investment in their future.
Sponsor A Child
Through your support, we know there will be bluer skies as we continue to help the youth of Collin County through courage, heart, and knowledge.
Boys & Girls Clubs of Collin County will follow all recommendations from the CDC regarding COVID-19 guidelines. We will personally notify you if our event has adjusted due to the changing nature of the guidelines. We are currently working out further details with safety, vaccination rates and local and state guidelines in mind. More information on our policies and procedures will be shared as we near our event date.